Hello and welcome Dusty Attic friends. I hope this post finds you well. Today I have my share of my moodboard inspired Journal Cover. I hope you enjoy it.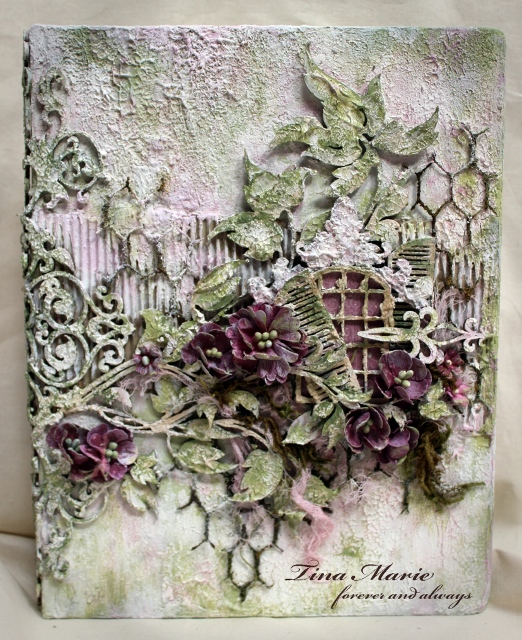 I have to admit that a journal cover is a very new thing to me. I am solely a scrapbooker but now after doing this and getting out of my comfort zone I am so going to do another very soon. I have had this journal book for so many years it is just not funny. It has sat in a box already primed in black gesso. I still had the pages wrapped in glad wrap to protect them from the gesso so that is as far as I got. Now black for me was just not going to work with this project. So I covered the black with Dusty Attic's Pesto Acrylic paint toned down with a little white gesso. This for me was my starting point. From there it took me a lot of days of going backwards and forwards to my artroom to play. There were many differing Dusty in Colour used for this project. I have listed them below for you to refer back to if you wish. They are;
[gallery grids="News" image_size="shop_catalog" tiles="true" size="medium" ids="1990,1986,1985,1988,1984,1987"]
After painting the entire cover I allowed it to dry and then randomly dressed the cover in Texture Crackle Paste. I love to use Crackle Paste and there is plenty of it here to see. I made sections thicker than other and gave it a textured element in place using my palette knife. I then let this sit overnight to dry and crackle.
[gallery grids="News" image_size="large" size="full" ids="1982,1981,1983"]
The next day I came back to start the process of selecting my Dusty Attic Chipboards...... the fun bit.
Well lets just say my art room was very clean before this step. I had chipboards everywhere and to decide what to use was no easy choice. Eventually I decided on just a few of my favourites. I dressed all of them in Crackle Paste (White) and then used my acrylics above to colour the chipboard pieces.
The chipboards I have used for this are:
[gallery grids="Featured" image_size="large" size="medium" tiles="true" ids="1993,1994,1995,1996,1997,1998"]
I ripped some Dusty Attic Corrugated Card and wrapped and adhered it around the cover. I did another layer of Crackle Paste in white and while it was still wet I pushed in some chicken wire that I picked up at the Dollar store. It is just awesome already rusted to go. I then layered my coloured pieces of Chipboards over the book cover. The Window and Shutters were layered a little differently. I like things to be a little more rustic so I gave it that kind of look. I also placed some Maja Designs paper behind the window to give more of a complimentary colour.
I also coloured my 49andMarket flowers with the Raisin Acrylic Paint.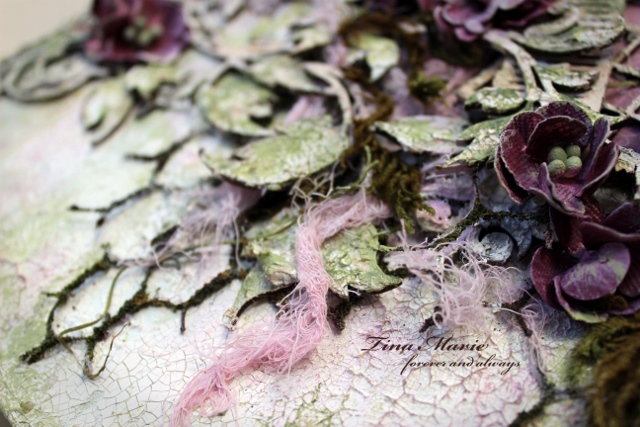 At the end I coloured some cheesecloth with the Sugar Plum Acrylic Paint and washed it down to get a pretty lightened colour. I added this amongst the chipboards and along with some moss from my stash. Above you can see the texture in the chipboards and on the cover.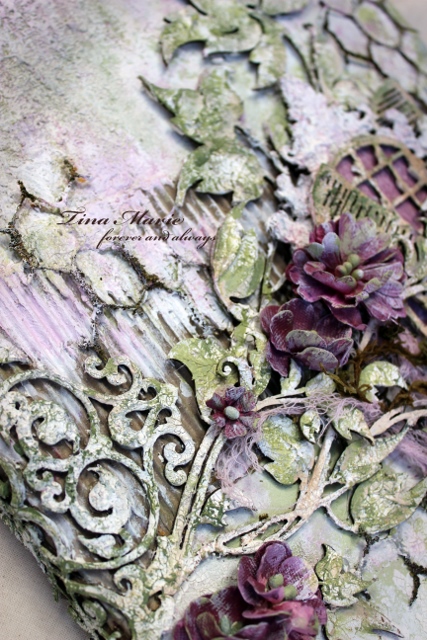 And from a different view.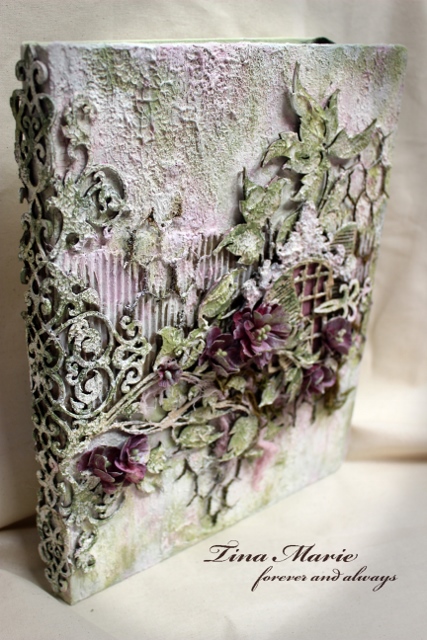 Well that is all from me today. I am so glad that you could join me here today. Thank you and until next time take care and happy crafting.